Product Description:
Bosch is one brand that has always been known for providing a wide assortment of good quality and high-performance ceiling loudspeakers. One such highly efficient ceiling speaker coming from the house of Bosch is the Bosch LBD0606 ceiling speaker which is considered perfect for both music and speech reproduction in schools, departmental stores, hotels, sports halls, public address applications and restaurants. This top quality loudspeaker from Bosch comes loaded with some of the most exclusive features making it one of the best ceiling loudspeakers presently available in the market. Your best source of getting this loudspeaker with a warranty of 1 year.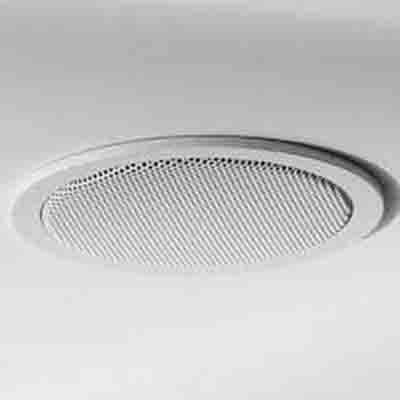 Design
The Bosch LBD0606 ceiling speaker features internal spring clamps on its rear side. These spring clamps can easily be used for fixing the loudspeaker onto a false ceiling. Another integrated part of this loudspeaker is its circular metal grille found in the front part of the speaker. This metal grill can easily be painted in almost any color for matching the background of the ceiling where it is fixed. The neutral white color and the appearance of this speaker have been specifically selected for being unobtrusive in almost all varieties of interiors.
Power
The Bosch LBD0606 ceiling speaker requires 100V power to function in the proper manner. This is a highly-advanced ceiling speaker that consumes only 8W energy while offering a power output of 6W. Such efficient consumption of power is one of the best features of this ceiling speaker adding to the great benefits rendered by the product.
Technical Features
The assembly of the Bosch LBD0606 ceiling speaker consists of one single piece, 6W frame and dual cone loudspeaker with a good quality 100V matching transformer carefully mounted at the rear side. It is also to be noted that this well-featured ceiling speaker offers a frequency range that is very high which automatically means improved music and speech reproduction. The 100V matching transformer of this high-quality ceiling speaker features taps on primary winding making way for full power, quarter power, half power and even eight power radiation. The frequency response of the Bosch LBD0606 ceiling speaker is between 150Hz and 15 KHz which is quite impressive when it comes to a normal ceiling loudspeaker. 
Sound Quality
The sound output power of this convenient ceiling speaker is 6W and the audio format supported by this product is MP3. Thus, it offers great sound quality with a noise reduction ratio of 108.8db. It is probably one of the best ceiling loudspeakers that music enthusiasts can get within an affordable range. The best thing about this ceiling speaker is that it offers maximum sound quality and range even when it is used in crowded places or places with heavy traffic like departmental stores and sports arenas.
Product Features:
| | |
| --- | --- |
| Number of Speakers | 1 |
| Power On/Off Indicator | No |
| Signal to Noise Ratio | 108.8 db |
| Frequency Response (Hz) | 150 Hz - 15 KHz |
| Additional Features | Suitable for Speech and Music Reproduction, Unobtrusive in Virtually all Interiors |
| Supported Audio Formats | .mp3 |
| Speaker System | Metal Ceiling Loudspeaker |
| Audio In | Com, 6W, 3W, 1.5W |
| Compatibility | Audio Player |
| Impendance | 1667 ohms |
| | |
| --- | --- |
| Weight | 2.1 kg |
| Dimensions | 122 × 145 × 321 cm |